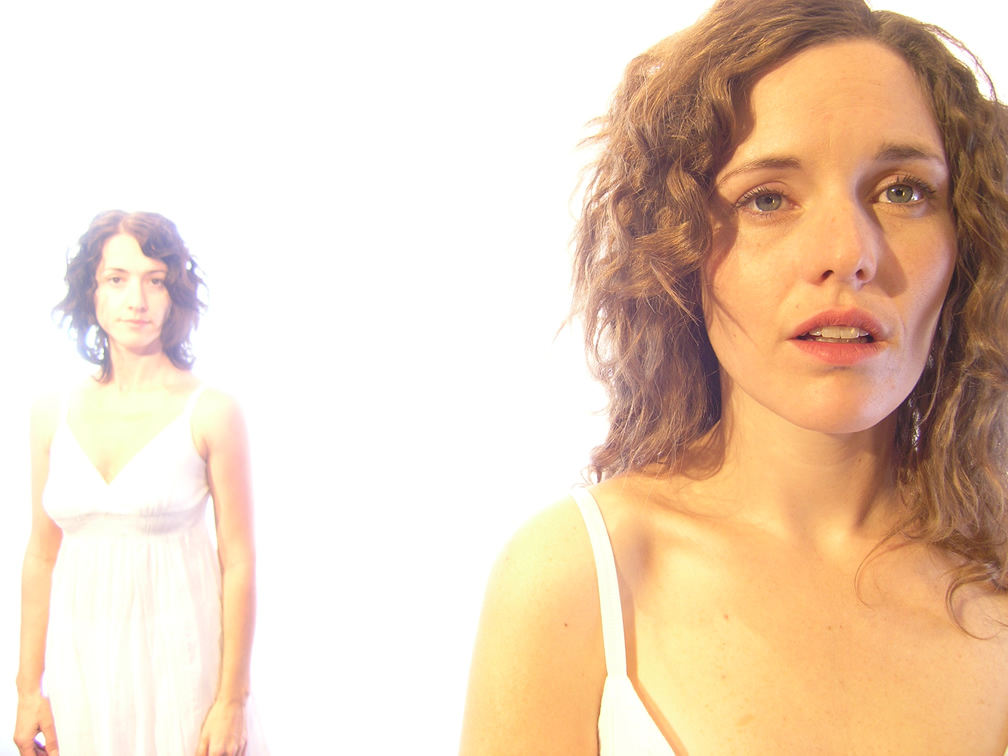 (includes Roghieh in the opening scene)
2011, 24:57 min, color, stereo, HDV, 16:9, single or 2 channel projection
Music and sound design: Philip Mantione
What Is My Name, Sister? by Alysse Stepanian on Vimeo.
For more info and images visit the project website…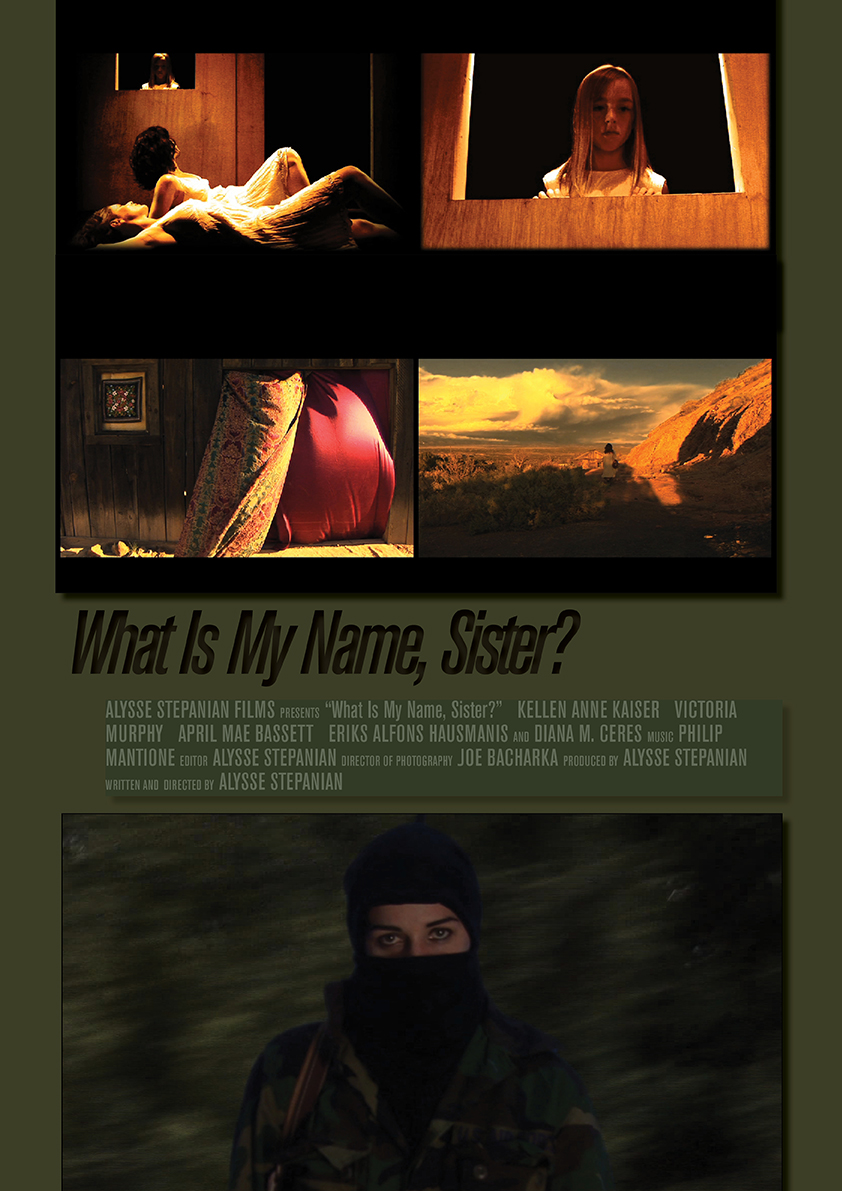 identity… displacement
being… becoming
metaphor… metamorphosis
This video presents a series of scenes are culled from a dream journal that I kept shortly after leaving post-revolutionary Iran in 1979. This was a period of many transitions in the country, which disrupted any sense of cultural continuity, and overturned and replaced existing socially accepted hierarchies. In this work, surreal scenes created in the subconscious world of dreams guide my search for understanding the past, in order to find a place in an erratic world built upon shifting values, expectations, and identities.
The opening scene, "Roghieh" paints a surreal picture of the early stages of the Iranian Revolution, when it empowered the underprivileged that had a significant role in the overthrow of an elitist regime. A cleaning lady's broom becomes a weapon symbolizing newfound strength. She jumps into the revolution from the wall-less bedroom of a young girl caught in the middle of social changes and role reversals. The subsequent surreal scenes completed over a year later reflect upon war, displacement, and a search for a place, identity, and peace.
This video was presented in a special issue of STIGMART10: VIDEOFOCUS 2013, which examines the fusion of videoart and experimental cinema. MAY 2013, Pg. 4-8.
Hit the esc (escape) key on your keyboard to leave full-screen mode:
---
SCREENINGS OF What Is My Name, Sister?
2015
• Cel·AV|Vídeo a Konvent; organized by the Contemporary Art Center of Central Catalonia; Konvent Puntzero; Sept 18-20
• "Nietzsche Was A Man" – VIDEO ART BY 20 IRANIAN WOMEN co-curated by Alysse Stepanian and Neda Darzi
two channel projection
Pori Art Museum, Finland; Feb 6 – May 24, 2015.
opening reception Friday, Feb 6 – 6PM
Curator's talk: Wed, Feb 4 – 6:30PM
2014
• "Nietzsche Was A Man" – VIDEO ART BY 19 IRANIAN WOMEN co-curated by Alysse Stepanian and Neda Darzi
Malmö Konsthall, C-salen; Sweden; April 10 – June 15, 2014
Lecture presentation by Stepanian: May 7, 2014 – 7PM; see press
2013
• "Nietzsche Was A Man" – VIDEO ART BY 19 IRANIAN WOMEN co-curated by Alysse Stepanian and Neda Darzi
Espaço Artes Multimédia e Performance; Hosted by FONLAD Digital Art Festival; Coimbra, Portugal; September 28, 2013
• Video PERSIART by VIDEOARTIST.IR; Korean Nature Artists' Association-YATOO;
Gongju, South Korea; August 3-13
• "Nietzsche Was A Man" – VIDEO ART BY 19 IRANIAN WOMEN co-curated by Alysse Stepanian and Neda Darzi
Museo Ex-Teresa Arte Actual in Mexico City: June 7- July 21, 2013, with July 17, 18 presentations; see press
• Experimental Sound for Visual Artists and Filmmakers; curated by Philip Mantione;
Riverside Art Museum, California; February 17
---
SCREENINGS OF Roghieh (the opening scene):

700IS Reindeerland; curated by Kristín Scheving; Nordic House; Reykjavik, Iceland; Fri, Feb 8, and Sat, Feb 9, 2013
Edinburgh Iranian Festival 2013: Borders; curated by Haleh Jamali; Art's Complex, St. Margaret's House; Edinburgh, UK; Feb 6-16, 2013
now what; curated by Elle Burchill and Andrea Monti of Microscope Gallery at the Running Rebels Studios; Brooklyn, New York; Jan7, 2013
Intercept 5:7; in the Off The Strip New Genres Festival organized by the CAC; curated by David Sanchez Burr; Multiplexer; Las Vegas, Nevada, USA; 8/31-10/1, 2012; download catalog
Identitet/Identity; from art:screen archives; curators Eva Olsson & Jonas Nilsson; ; Vetlanda Museum; Vetlanda, Sweden; May 5-June 3, 2012; program
MI_LosAngeles2012 ; screening of Roghieh; ARENA 1 Gallery; Santa Monica, CA; April 29, 2012
BEFF06 – 6th Bangkok Experimental Film Festival; CologneOFF 2012; curated by Wilfried Agricola de Cologne; Goethe Institute, Bangkok, Thailand; Feb 1, 2012; download program
The Warrior & The Slave; screenings in Jordan; organized by Women's Voices Now (2011):
Oct. 13, 10 am; Jordan University of Science & Technology, Irbid
Oct. 19, 8 pm; outdoor screening; Royal Film Commission; Amman
Oct. 20, 8 pm; hosted by Royal Film Commission; Women's Center, Madaba
"4th Annual Iranian Film Festival"; San Francisco Art Institute, CA; Sept 11, , 2011, 11AM; see bio here
"ProjectFresh Presents: Crossroads: The Intersection of Cultural and Religious Norms"; showing "Roghieh" and on a panel with Maha Awad and Victoria Fine, moderated by Suzie Abdou; organized by Women's Voices Now; at the Downtown Independent Theater; Los Angeles, CA; Wed, Jul 13, 2011, 8pm – 11pm
"The Female Eye: Women Directors Cut"; presented by CologneOFF 2011 Baltic Sea; Estonian Academy of Arts; Tallinn; color catalog, page 46; June 2, 2011, 4pm
"The Female Eye: Women Directors Cut"; presented by CologneOFF 2011 Baltic Sea; Galleria Rajatilla; Tampere, Finland; color cataalog, page 43; May 28, 2011, 7pm
"Further Tales from Everywhere"; curated by Michael Cousin of OUTcasting; Photon Gallery, Ljubljana, Slovenia; Tuesday, May 24, 2011 · 8:00pm
"A Century of Artists' Film"; curator Michael Cousin/OUTcasting; Oriel Mwldan, Cardigan, UK; May 21- July 2, 2011
"Crossroads: The Intersection of Cultural and Religious Norms"; organized by Women's Voices Now;
The Paley Center For Media; New york City; Sat, May 14th, 2011, 1:45PM
CologneOFF 2011 – Videoart in a global context, nomadic festival project; Arad Art Museum, Romania; in a program titled "Asia: Near West/Near East"; curated by Wilfried Agricola de Cologne; catalog; April 1, 2011, 6-7pm
"ARTchSO Videofestival"; in a program titled "Asia Focus I – Near West/Near East" curated by Wilfried Agricola de Cologne of CologneOFF 2011; Le Vivarium Cultural Center; Rennes, France; March 26, 2011
Göteborg International Film Festival; curated from the art:screen Archives by Jonas Nilsson /Eva Olsson; Sweden, Jan 28 – Feb 7, 2011
"ANOTHER EXPERIEMENT by WOMEN" presented by EYE:AM; curated by Lili White; Anthology Film Archives;
New York City; PROGRAM 1- January 12, 7PM, 2011
"VAFA 2010 – Video Art For All" organized by Art For All Society (AFA) and Orient Foundation; Orient Foundation Casa Garden Gallery; in a program called "NU DADA"; November 16, 25, December 1; The First International Open Call Festival for Video Art in Macau; 2010
Vasteras Konstmuseum; curated from the Art Video Screenings Archive by Jonas Nilsson /Eva Olsson; November 20, 2010; Sweden
Women's Voices from the Muslim World: A Short-Film Festival; showing "Roghieh" in an online competition: Oct-March 2011; screenings at "CROSSROADS: THE INTERSECTION OF CULTURAL AND RELIGIOUS NORMS"; round table discussion with filmmakers in a festival by Women's Voices Now; L.A. Film School; Hollywood, CA; March 18, 4:30-7pm Listen to Voices Of America News: "Online Film Contest Focuses on Muslim Women"; radio phone interview with Julie Taboh; Nov 4, 2010-2011
DA Fest 2010; National Academy of Art; Sofia, Bulgaria; September 13, 2010
4th Gaza International Videoart Festival: Gaza – Jerusalem – Ramallah – Rafah – Jabalia – Bethlehem. Curated by Wilfried Agricola de Cologne & the Gaza festival jurors, two screenings on June 19 & June 23,2012; catalogue
Art Video Screening; part of Orebro International Videoart Festival; curated by Jonas Nilsson /Eva Olsson;
Oct 1-3, 2010; Sweden
One Shot /8th International Short film Festival; collection of CologneOFF V; Armenian Center For Contemporary Experimental Art; Yerevan/Armenia; May 18, 2010
"SHE_STORY" curated by Natasha Kadin; catalogue; Zadar, Croatia opens March 13, 2010
OUTcasting Season 12: cuarted by Michael Cousin; Based in Cardiff, UK; March – April 2010
CeC 2010, The 5th annual Carnival of e-Creativity: collection of cologneOFF V; Sattal/India; Feb. 19-21, 2010
CologneOFF V video festival; download festival catalogue & Read online interview
curated by Wilfried Agricola de Cologne; Based in Cologne, Germany
---
CREDITS:
CAST
in order of appearance
Kellen Anne Kaiser……Alice
Victoria Murphy……mother
April Mae Bassett……Roghieh
Eriks Alfons Hausmanis……brother, soldier 1
Tania García……dancing girl 2
Diana M. Ceres……sister
Valerie Griego……dancing girl 1
Kevin Hogan……soldier 2
Alexus Rahe Hausmanis……little Girl
director . producer . writer . editor
ALYSSE STEPANIAN
Alice's monologue written by
CLARICE STEPANIAN
director of photography
JOE BACHARKA
music & sound design
PHILIP MANTIONE
camera
JOE BACHARKA
ALYSSE STEPANIAN
MICHAEL YATES
assistant director
LANA KIANA GARCÍA
script supervisor
ALBERTA BOUYER
art . wardrobe
HEIDI COOPER
ALYSSE STEPANIAN
wardrobe for Alexus Rahe Hausmanis
MARY DURREN
hair . makeup
BERNADETTE LOVATO
VALERIE GRIEGO (Tania García's hair)
key grip
TAYLOR FENNO
VALARIE J. QUICK
dolly grip
TAYLOR FENNO
VALARIE J. QUICK
lamp operator
PHIL ARNOLD
location sound supervisors
JARED GIESE
NICK NAJDOWSKI
boom operators
PHIL ARNOLD
ROBIN EVA GARCIA
JARED GIESE
FRANCISCO JOSE MARTINEZ PERAMOS
JOHN MAYER
grip & set construction
GABRIEL ALICTO CHAVEZ
PHIL ARNOLD
LAURA CLAGETT
ROBIN EVA GARCIA
FRANCISCO JOSE MARTINEZ PERAMOS
JOHN MAYER
RANDALL NIEMAN
video assist
GABRIEL ALICTO CHAVEZ
FRANCISCO JOSE MARTINEZ PERAMOS
RANDALL NIEMAN
camera assist
GABRIEL ALICTO CHAVEZ
FRANCISCO JOSE MARTINEZ PERAMOS
JOHN MAYER
still photographers
ALBERTA BOUYER
ROBIN EVA GARCIA
LANA KIANA GARCÍA
FRANCISCO JOSE MARTINEZ PERAMOS
LAUREN RAE KOVARIK (outdoor scene)
video documentation
CHARLES BALDWIN
production assistants
LAURA CLAGETT
ROBIN EVA GARCIA
SPECIAL THANKS TO
all the cast and crew
Philip Mantione
Monique Anair
Stuart Goswick
Rick Reichman
Vanja Aljinovic
Denise Rousseau
Sandra Ducharme
David Hevener
Martin Back
Robert Peters
Joyce and Mike at the Madrid Casita
Santa Fe Community College
for the use of equipment, location, and support
Dialogue: Armenian, Farsi, and English
Filmed in Madrid and Santa Fe, New Mexico, USA
IN MEMORY OF KAYO
© 2011 Alysse Stepanian
---
Roghieh
5:31, 2009, color, stereo, HDV, 16:9
Director, Producer, Writer, Editor: Alysse Stepanian
Director of Photography: Joe Bacharka
Music: Philip Mantione
Camera: Michael Yates, Alysse Stepanian
Dolly Grip: Taylor Fenno
Location Sound Supervisor: Nick Najdowski
Set: Alysse Stepanian, Francisco Jose Martinez Peramos, Taylor Fenno, John Mayer
Video Assistant: Francisco Jose Martinez Peramos, Randall Nieman
Grip: Randall Nieman, Francisco Jose Martinez Peramos, John Mayer
Boom Operator: John Mayer, Francisco Jose Martinez Peramos
Camera Assistant: Francisco Jose Martinez Peramos, John Mayer
Still Photographer: Francisco Jose Martinez Peramos
CAST
Kellen Anne Kaiser: Alice
Victoria Murphy: mother
April Mae Bassett: Roghieh
Special Thanks to: All the cast and crew, David Hevener (for the use of his roof), Martin Back (for the use of his rifle), Victoria Murphy (for the use of her props), SFCC (for the use of equipment, location, and support), Monique Anair, Stuart Goswick, Rick Reichman, Vanja Aljinovic, Sandra Ducharme, Denise Rousseau