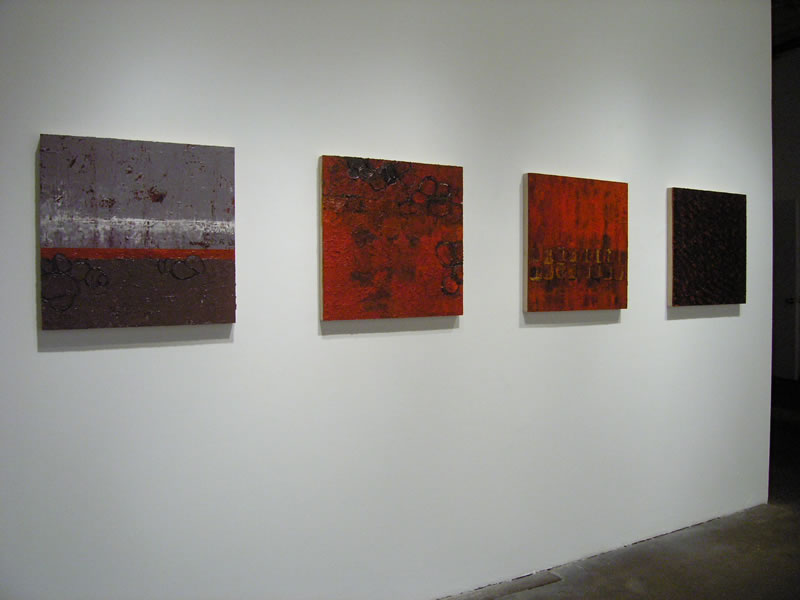 I LOVE THIS EARTH.
I LOVE THE UNIVERSE THAT HOLDS IT.
I LOVE THE HUMANS AND OTHER ANIMALS THAT INHABIT IT.
I LOVE ITS WATER.
I LOVE THE SUN THAT SHINES ON IT.
I LOVE THIS EARTH SO MUCH THAT SOMETIMES I LIE AWAKE AT NIGHT, THINKING ABOUT MY LOVE, UNABLE TO SLEEP.
BUT WILL THIS EARTH LOVE ME BACK FOR WHEN I SEE IT SUFFER, I LOOK AWAY AND DO NOT SPEAK?
A Winter Solstice Poem
by Alysse Stepanian
4:30am. 2014. Planet Earth
(15 oil paintings on panel – 24"x24" and larger. So far completed: four 24"x24" panels.)
Toward A Minor Consumerism: The End of Painting As I've Known It
When I first began work on these paintings in 2008, I found it difficult to talk about the impetus behind them, but subsequently I came to realize the importance of sharing those ideas.
While the focus of most of my past work has been the human identification with objects and the tyranny of possessions, these paintings reflect upon the suffering caused by treating other animals as human property. Hierarchical anthropocentric societies exploit non-human animals as well as those with lesser political or economic power. Women, animals, the poor and other minorities are objectified, oppressed, enslaved, and marginalized. These paintings are informed by the horrific acts that take place in factory farming. They refute the Cartesian dualism that denies other animals the capacity to suffer, and invite the viewer to question and reconsider supporting economies built upon violence, enslavement and oppression.
Deleuze and Guattari have described Franz Kafka's writings as revolutionary minor literature when he went against the social sensibilities and civilities of an oppressive period in history. Moving parallel to these ideas, I invite viewers to engage in minor consumerism with an eye on the political, socio-economic and environmental impacts of their choices and the ways in which they can reduce social injustice and suffering of other animals.
Ironically, four years after the start of this series, when my own awareness kicked in, I researched to find out whether the painting materials that I was using contained any animal products – fortuitously they did not!
The End of Painting As I've Known It marks the end of contradiction and the beginning of the need for clarity in my own work.
The first four 24″x24″ paintings were exhibited on July 7, 2011 in what I don't see can't hurt me: the aesthetics of resistance, a one night PØST kamikaze exhibition in Los Angeles curated by Alysse Stepanian.
To see more paintings go to my old website.