For more info and images go to the project website.
Scroll down for Chinese text.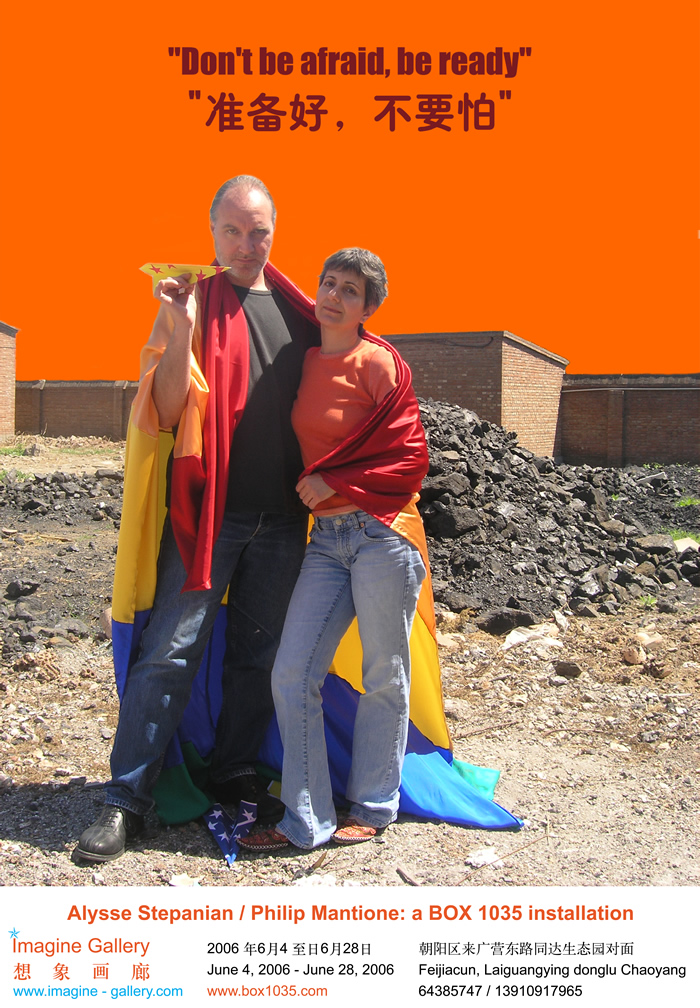 In this installation, BOX 1035 uses the colors of the terrorist alert system adopted by the US government after 911, as a reference to hyper-vigilism, induced paranoia and an Orwellian attitude that has threatened to permanently undermine American civil rights, while paradoxically claiming to protect them. The "Color-coded Threat Level System" ensures that at no time is it possible to live without some level of fear.
HOMELAND SECURITY ADVISORY SYSTEM
Color-coded Threat Level System
RED ALERT:  severe risk of terrorist attacks
ORANGE ALERT: high risk of terrorist attacks
YELLOW ALERT: elevated risk of terrorist attacks
BLUE ALERT:  guarded general risk of terrorist attacks
GREEN ALERT:  low risk of terrorist attacks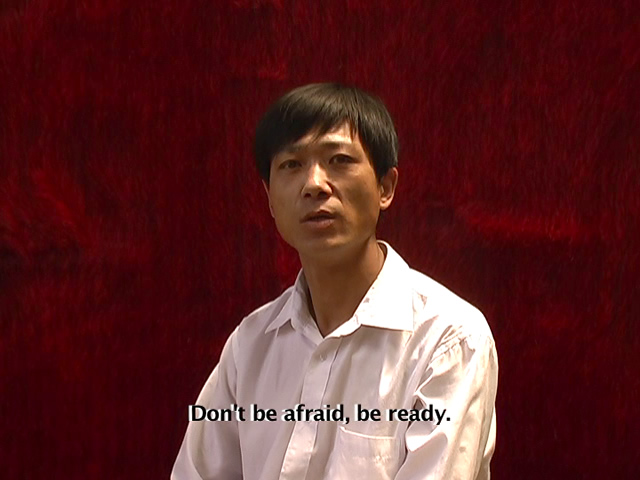 The politics of doom depend on the existence of evil, which is defined as the opposite of good. Where the concept of the yin and yang strives for a balance, alertism maintains a state of permanent conflict between right and wrong, friend or foe, us or them. The perceived need to be protected from an invisible enemy negates the power of constructive thought, and drives the self-fulfilling prophecy that validates the system.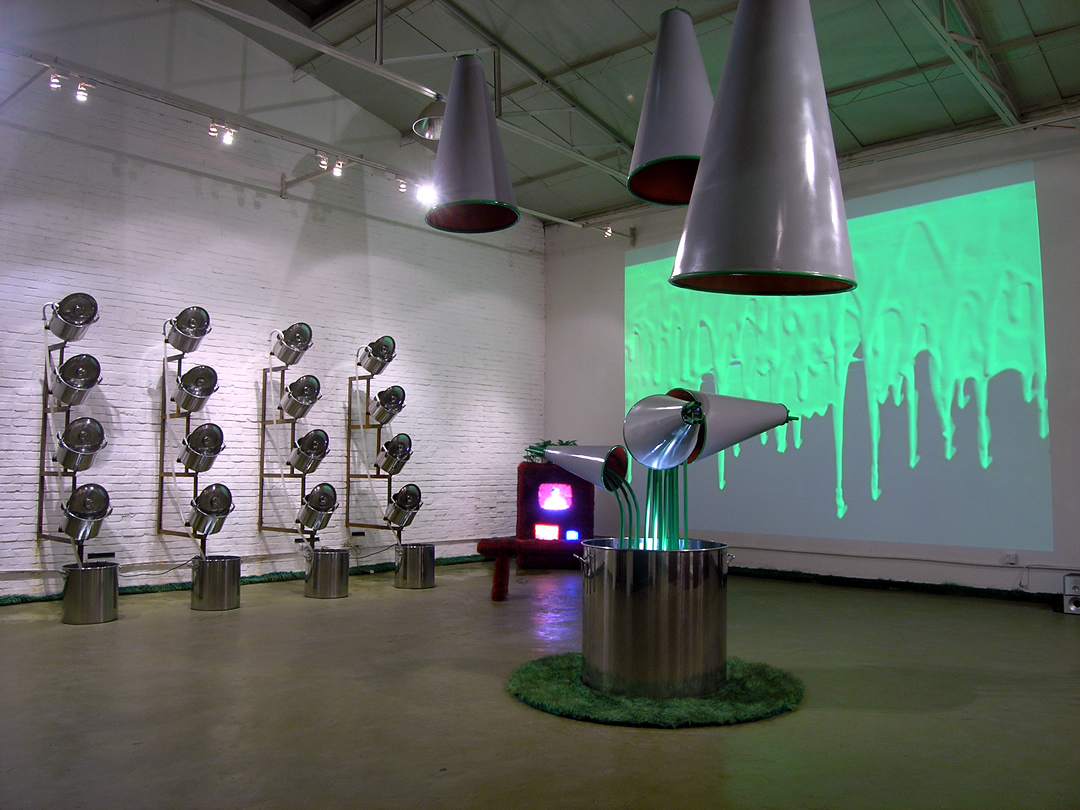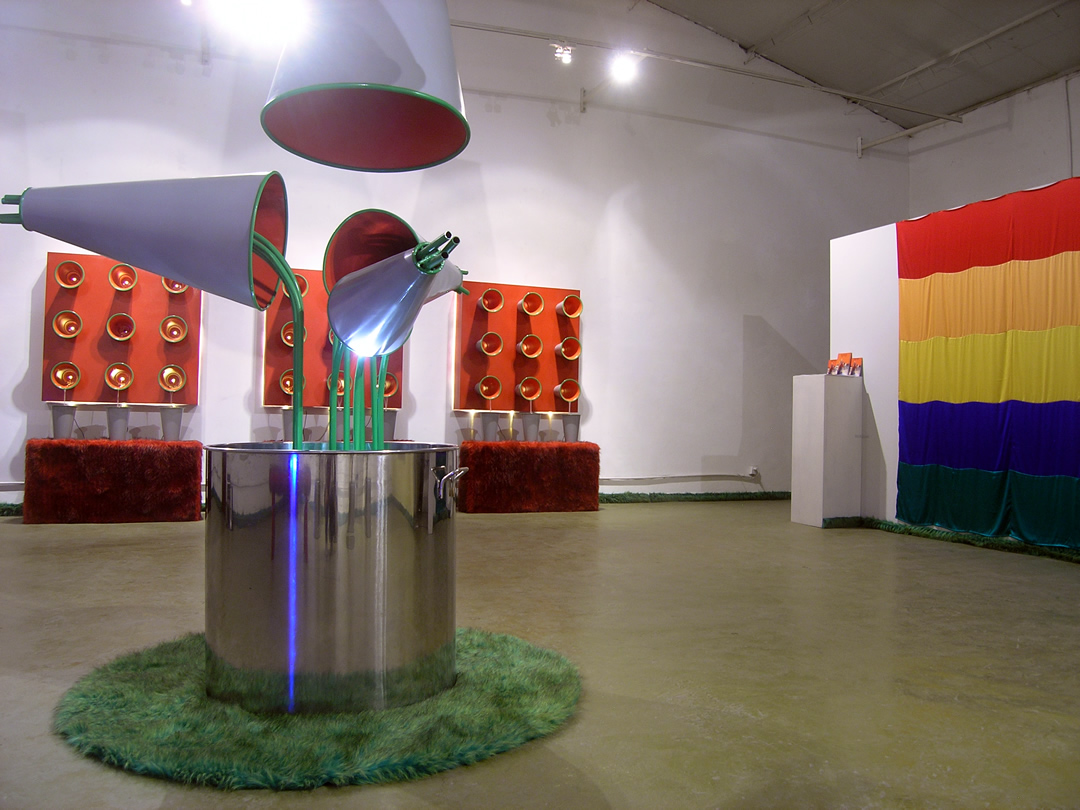 Water is used in a sculpture made of cooking pots, emblems of one of the most basic human inventions. The use of water as a symbol of purity and truth in recycled systems refer to artificially defined reality that feeds on itself. In other sculptures, repetitive conical shapes resemble megaphones, referencing the voices of the megalomaniacs who attempt to reshape and redefine human perception. Artificial fur is used as a reference to manufactured truth.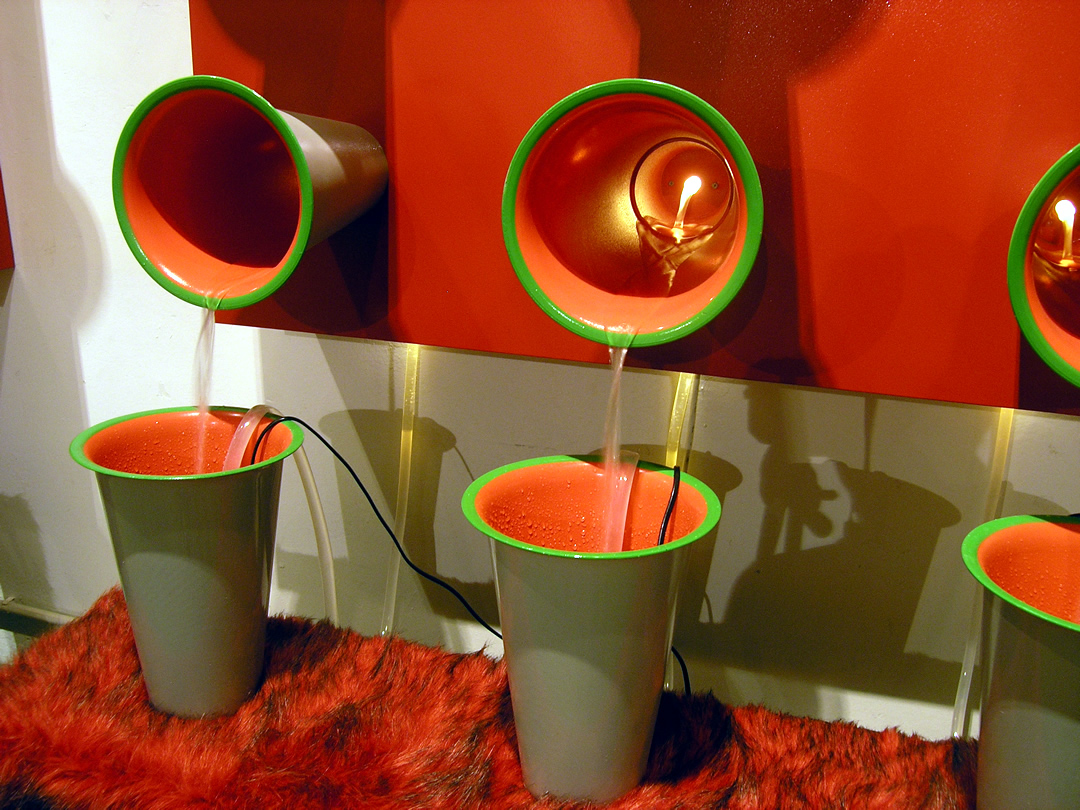 An English-subtitled video depicts a Chinese man making statements in front of a red background, which to foreign viewers might be construed as communist propaganda. Ironically, the text used is translated almost verbatim from the US Department of Homeland Security website. Also included are quotes from Howard Zinn's book, Terrorism and War and text based on a quote by former Attorney General, John Ashcroft in which he uses language from the constitutional definition of treason to attack dissenting opinion. On another screen, a surveillance camera addresses the current debate over civil rights.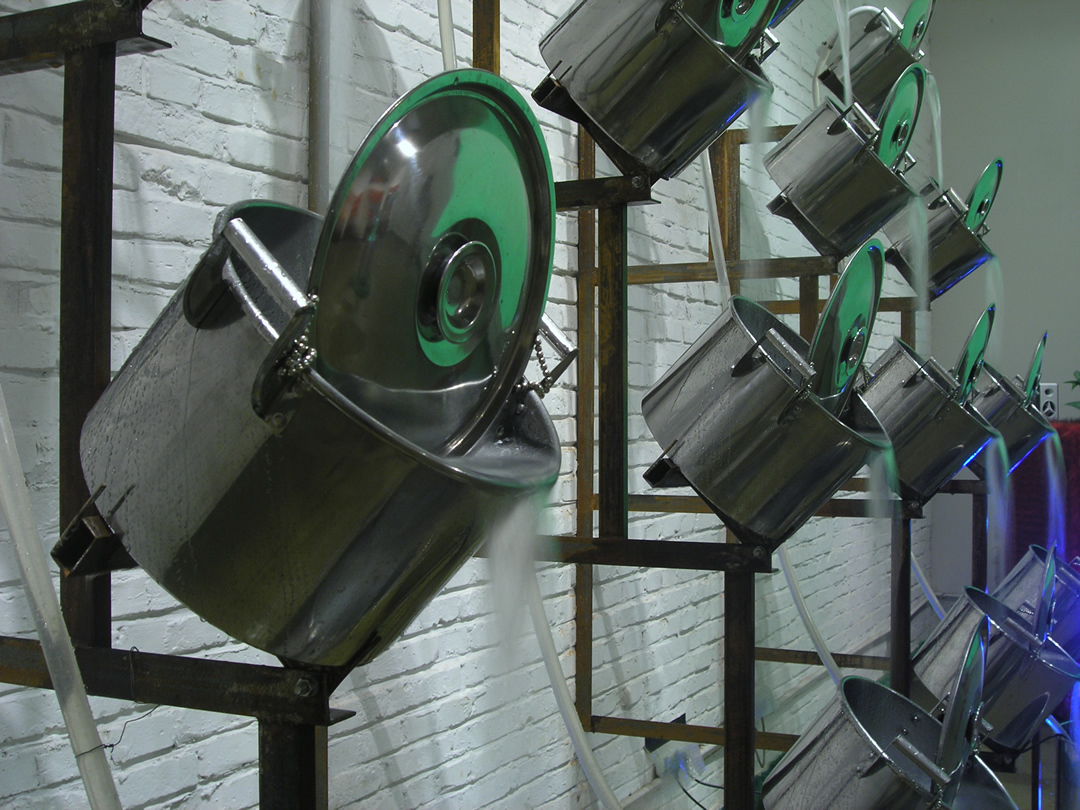 Special thanks to our friends: Gao Yi Gang, Xiao Gong, Ya Ping
– performance: Gong Hai Ming
– voice and cultural liaison: Gao Yi Gang
– text sources: U.S. Department of Homeland Security website
– Quotes by: John Ashcroft and Howard Zinn from the book Terrorism And War by Howard Zinn (2002)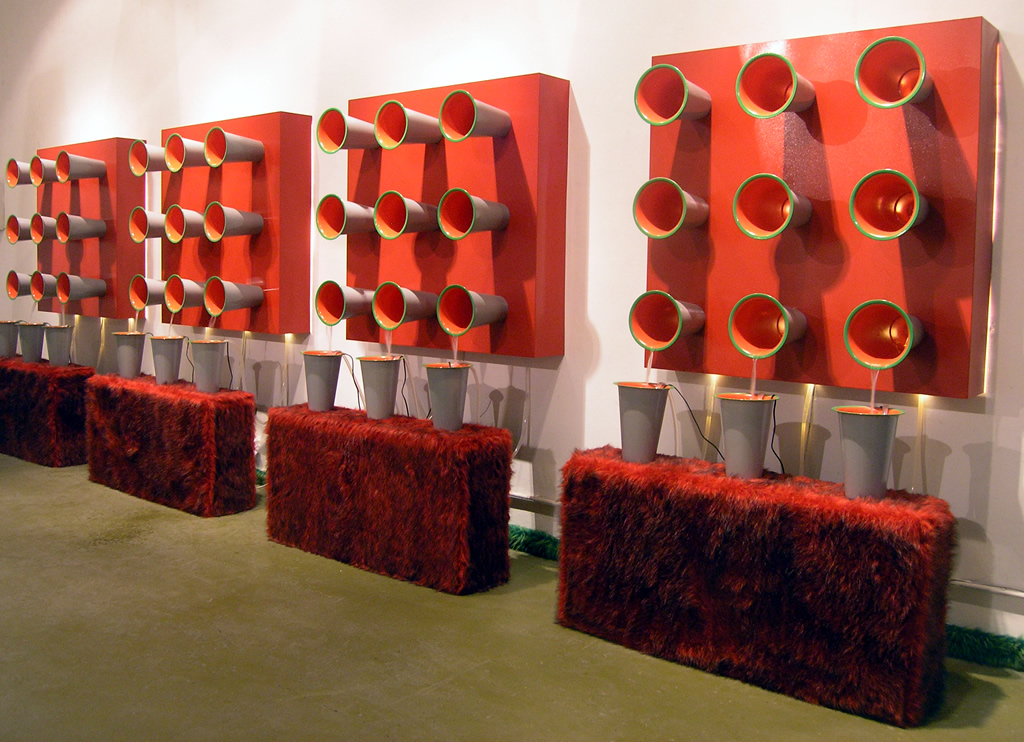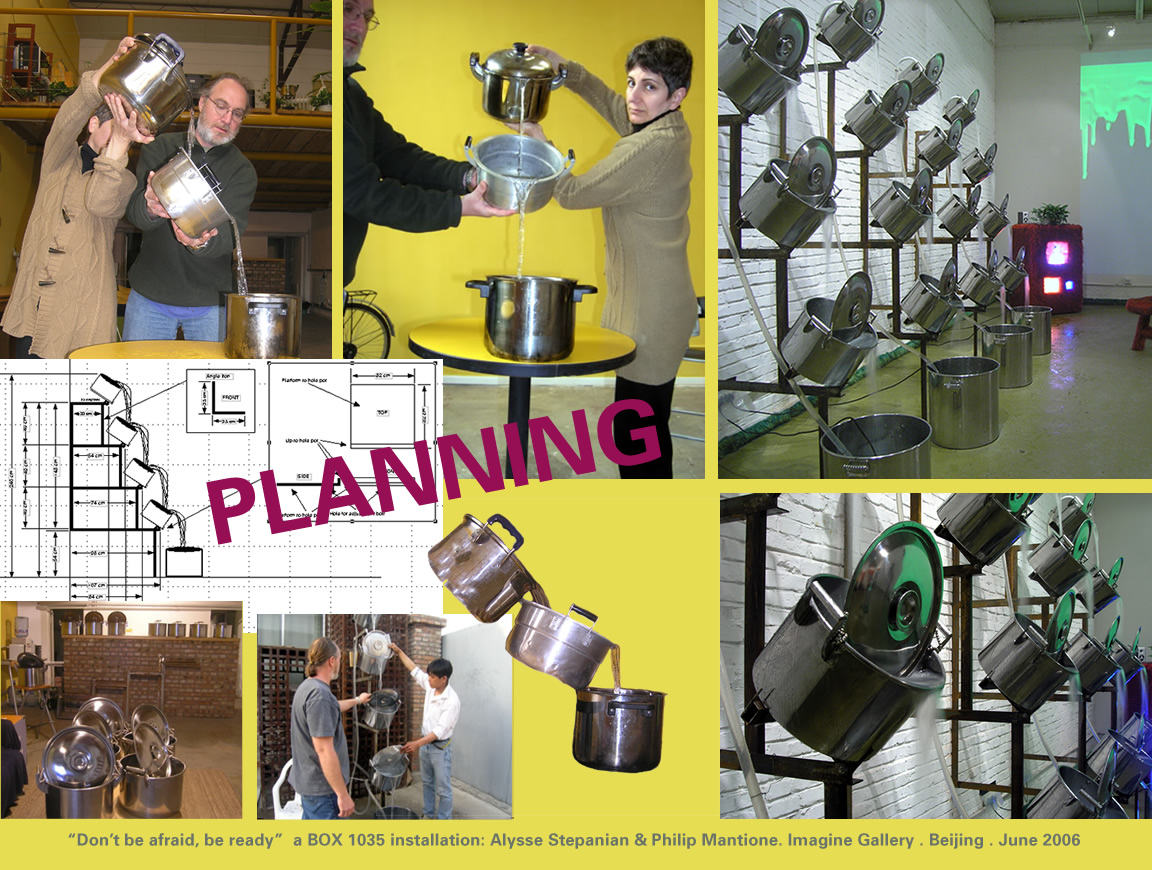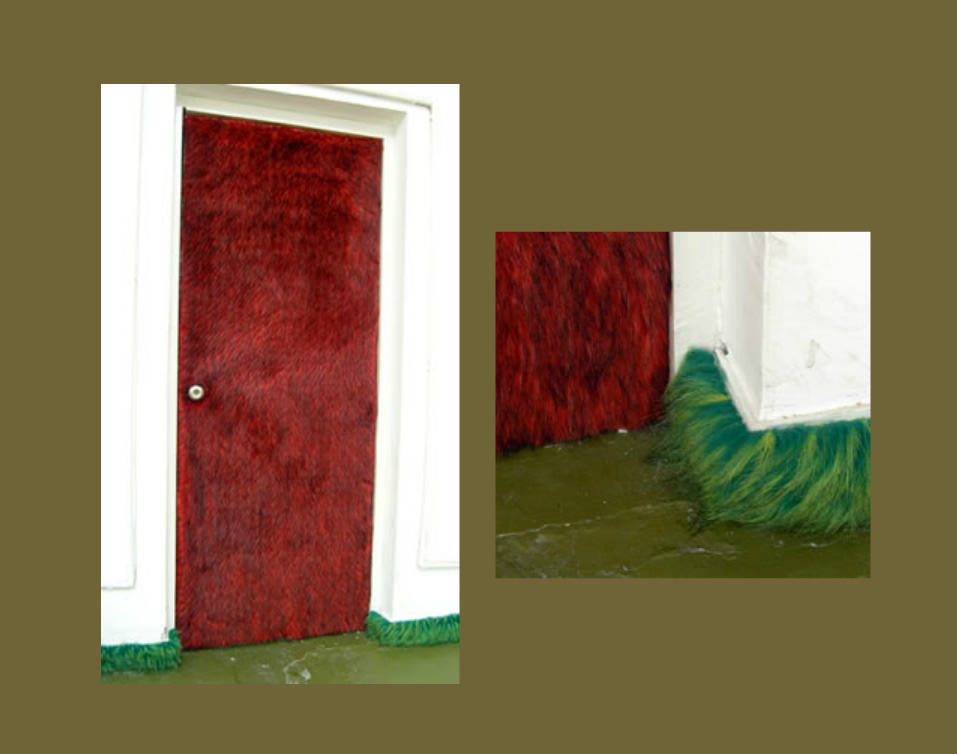 在这个装置中,BOX1035用的是美国政府自911恐怖袭击以后采用的恐怖分子预警系统所用的颜色。该系统对过度警觉的人、受到恐怖袭击后而引发的妄想狂症患者,和那些奥威尔式的失去人性社会态度的人作为一种参考。这些人已经威胁到永久地破坏美国人民的权利。同时,他们还荒谬地声称能保护自己。这种颜色代码的威胁级别系统能确保我们在任何时候,即使有些恐惧,也能正常地生活。
国土安全警告系统
颜色代码 威胁级别系统
红色: 严重级别的恐怖袭击风险
橙色: 高级别的恐怖袭击风险
黄色: 有待提升(中等级别)的恐怖袭击风险
蓝色:  一般的恐怖袭击风险
绿色:  低恐怖袭击风险
失败的政治是由于有罪恶的存在,邪恶被定义为公正的对立面。预警系统在正义和邪恶、朋友和敌人、我们和他们之间保持着永久的冲突,如同阴和阳的概念是在哪里寻求平衡一样。不被无形的敌人伤害,这种感知的需要抹杀了建设性想法的力量,从而推动使该系统生效的预言得以实现。
水是用在一个煮罐的雕塑中,是人类最基本发明之一的标志。水在再循环系统中的使用是纯洁和真理的象征,被现实定义为自给自足。在其他的雕塑中,圆锥形的象征着扩音器,代表着那些试图改造和重新定义人类感知的那些妄自尊大的人的声音
有英文字幕的录像描述的是一个中国男子在红色背景的前面宣讲声明,对外国观众来说,可能会认为是共产主义的宣传。具有讽刺意义的是,使用的原文是从美国国土安全部(US Department of Homeland Security)的网页上几乎是逐字逐句地翻译过来的。也包括引用了霍华德 基恩(Howard Zinn)的著作恐怖主义与战争中的部分原文,还有引用前任首席检察官约翰 阿什克鲁夫特(John Ashcroft)的语句,他用宪法定义的叛国罪来抨击不同的意见。在另外一个银幕,关于公民权利的争论正在进行。
BOX1035 (Alysse Stepanian,Philip Mantione)
网  址:  www.BOX1035.com
BOX1035是参考了我们个人艺术家的主意逐渐产生出来的,结合了我们在创作过程中产生的多知觉的,静态的和现时的,短暂的和永恒的艺术和音乐的角度。约瑟坎贝尔说"超越相对的世界,我们所有的在里面是无法预知的统一和一致。"我们的工作是与社会的、政治的、哲学的、和心理上的多层次的结合。欲望、迷茫、恐惧和焦虑回到了我们的主题。
在2005年,我们放弃了有个家的想法而去寻求国际性的项目。我们的邮政信箱BOX1035变成了非固定的一种象征,也是不仅仅作为生存的需要,而且在经验和运动方面的的兴趣而激发的一种流浪的生活方式。风险和不确定因素相互吸引着,在某种意义上说,生命效仿艺术。正如约翰凯奇所说"艺术是自我改变的机会,而不是自我表现的机会。"
L.P. Streitfeld 是《纽约时代》和《提倡和格林威治时代》的批评家和作家描述了BOX1035最近的工作,"固执的效用:所有的都是橙色,'象'是在美国情绪冲突状态的扭曲的和深刻的注释。
Alysse Stepanian和Philip Mantione在录像、装置、多媒体演示和音乐方面已经合作了好几年。"准备好,不要怕"是他们在想象画廊居住的三个月的时间里所创作的。最近他们被纽约Islip艺术博物馆邀请创作一个新的装置。10月份,他们将开始为期一年的在柏林Kunsthaus Tacheles居住。BOX1035的合作已经在柏林的Podewil,巴黎的cinéma l'Arlequin,wigged.net网,洛杉矶的F ig画廊,Sherry Frumkin画廊和Jan Baum画廊,在General的VOID和在纽约的Dixon Place,在英国的利兹国际电影节,HAY-Art文化中心和亚美尼亚的耶烈万的当代艺术亚美尼亚中心都进行过展出。