Utility of Obsession: All Things Orange

For more info go to the project website.
Watch documentary video below.
A construction of stacked, bright orange bedroom nightstands in a doorless cave-like space, alludes to the notion of insecurity and assaults on privacy. Buckets and drawers with holes are denied their typical function and act as conduits in a self-perpetuating system of recycled water. Wire pods hanging from the ceiling hold unrelated orange objects, reminiscent of the way spiders wrap their prey. An open wire pod looms over a circular platform that holds partially filled glasses and an artificial snake. The entire structure vibrates, animating the objects and the pod. A video in another pod shows a woman in the woods in an orange shirt during a heavy snow fall. Her clothing adds color to the white landscape, as if professing her identity in a colorless vacuum. In the soundtrack, a voice absurdly sings lyrics reflecting her obsession with the color orange.
Webster's dictionary defines obsession as a persistent disturbing preoccupation. As an obsession dictates what must be, it also defines what must not be. It relates to an ideal state as prescribed by a set of conditions, which in practical terms can never be fully met. Repetition is inherently linked to obsession as the obsessor continually attempts to reach the ideal, creating tension without resolution. In this installation obsession has been consciously used both as a conceptual point of departure and a process to inspire the creative act. By limiting the color to orange as an object of a synthetic obsession Mantione and Stepanian have created a sense of order and focus.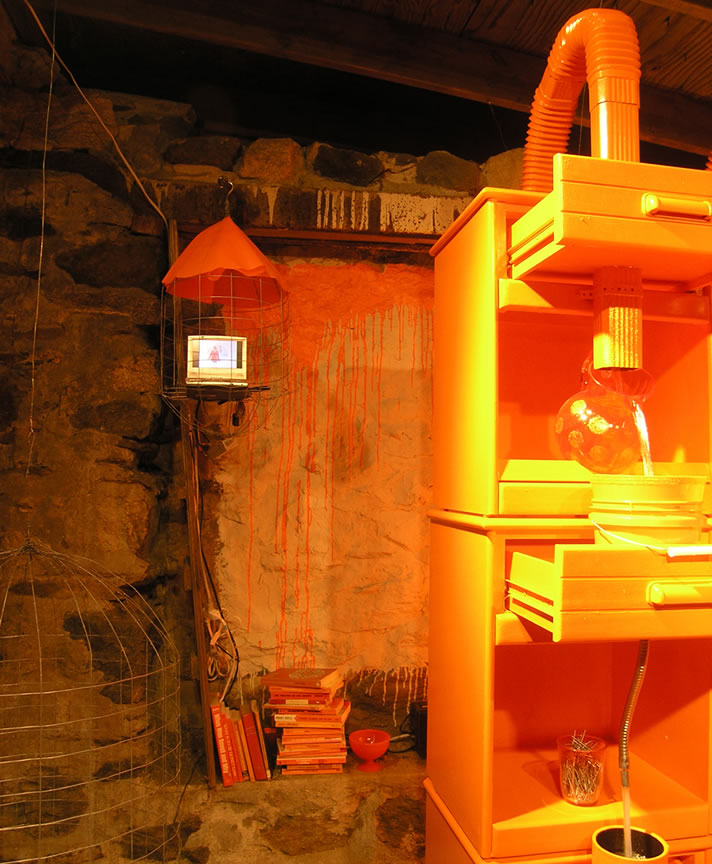 According to chromotherapists, when in balance, orange represents courage, success, motivation, authority, energy, and alertness. Orange could be as vibrant as flames, and demand attention as in a caution sign. In politics the color orange is used as a signal for vigilance, putting people in a state of deference and submission. The media preys on public obsessions and insecurities, as a means of influencing their opinions. Simplifying complex ideas with symbols or colors makes messages palatable to a large audience, creates a sense of purpose, and unifies multiplicity. In an oppressive society they can be triggers for instilling fear and enforcing power, and in revolutions they may be reminders of the presence of resistance.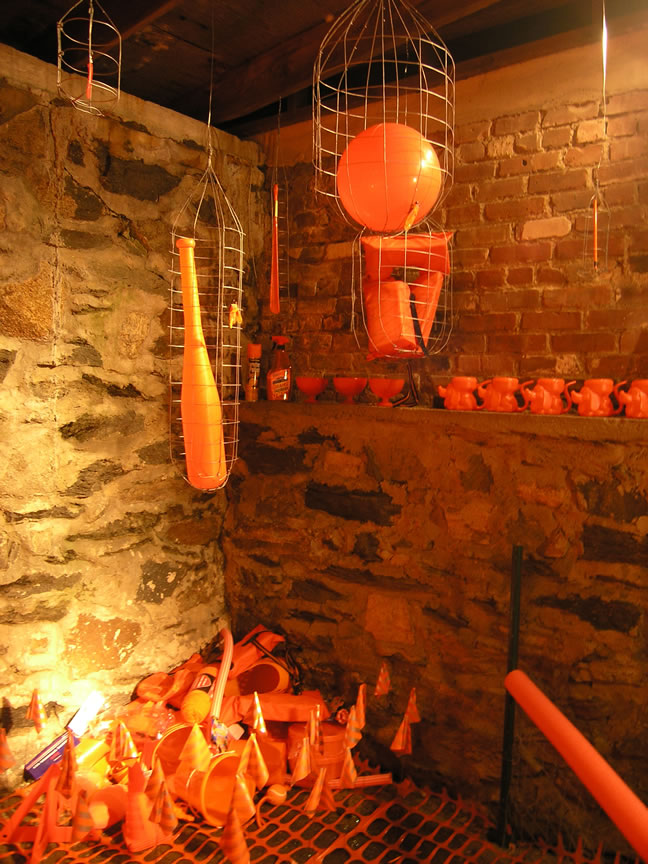 After the 2004 election, Yushchenko's public calls for action resulted in massive protests, and nearly 500,000 participants marched in front of the headquarters of the Ukrainian parliament, many wearing orange or carrying orange flags, the color of Yushchenko's campaign coalition. In Poland, the Orange Alternative, an underground anarchist movement against communism led by Waldemar Frydrych, painted big, orange smiling dwarfs on buildings and demanded "Freedom for Santa Claus." G. W. Bush, in adopting the phrase "Purple Revolution," has attempted to link the elections in occupied Iraq with democratic revolutionary movements such as the Rose Revolution in Georgia and the Orange Revolution in Ukraine.
The utility of obsession relates to the elimination of uncertainty by identifying certain synthetic truths. As the politics of  orange alerts arouse fear, and fashionable colors encourage conformity, the drive for self-preservation and comfort of belonging maintain the system.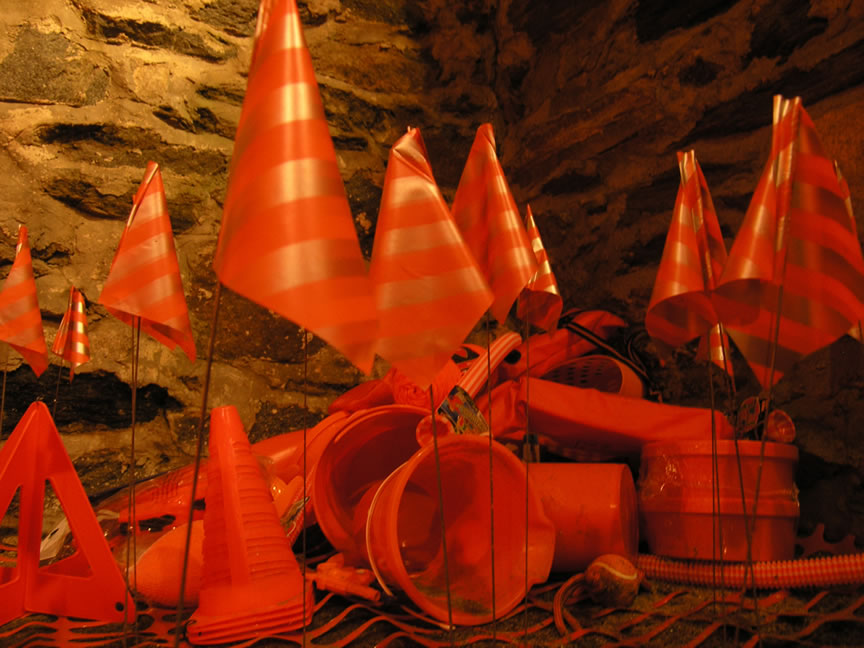 •  This exhibition was supported in part with funds from the Special Opportunity Stipends Program through NEW YORK FOUNDATION FOR THE ARTS and NEW YORK STATE COUNCIL ON THE ARTS, administered in Mid-Hudson by GARRISON ART CENTER.
The Video:
A video in a pod shows a woman in the woods in an orange shirt during a heavy snow fall. Her clothing adds color to the white landscape. In the soundtrack, a voice absurdly sings lyrics reflecting her obsession with the color orange. (voice and performance: Alysse Stepanian)